THANK YOU FOR MAKING US A CROWD FAVORITE!

OpenTable diners voted our Twisted Fork restaurant as one of the best around!

We appreciate all of you. Click the badge to the right to make your next reservation. And, let us know how you feel. We're always striving to be even better.
For the latest News & Events, Promotions & Discounts, please provide your Name, Email, and Phone. We'll keep you posted only when we have something Twisted to convey to you and not a moment before.
These are some of our Main Events, but click the button below for more info on ALL of our Events.
🍾New Years Eve festivities are just around the corner! Tickets are for our New Years Eve party. VIP Tickets include champagne toast and a premium buffet! We will have live music from 6:30 pm until midnight!✨
Handcrafted delights that instantly brighten up your day. Whether its a traditional Florida deliciocity, Soups & Salads, or one of our traditional home recipe for dessert, we use the finest ingredients to produce these mouth watering artifacts.
"You won't find anything here from other restaurants. This is its own baby."
Creating this experience from start to finish has been an amazing road for me. I not only wanted to provide a unique environment but also serve the best quality food, drink, and entertainment in Port Charlotte. Thanks for making The Twisted Fork a part of your experience.
We have many awesome items to please the palate. New Twists from the Twisted chefs. Come by and try some of the recipes that have helped feed four generations of our family. We delight in your delight.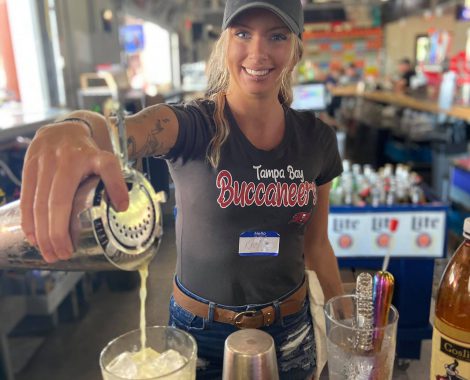 Not only do we server up some of the most Twisted foods you've ever tasted, but we have the most unique drinks ready for you from our Mixology Department.
Drink some of the best cocktails from our awesome Mixologists. Or, keep it simple with the finest beer and wine selections to be found on the planet.
Enjoy the best music and events in Port Charlotte.
Serving up some of the best entertainment you can find anywhere. Our Back Porch Live is always slammed with fun. We have a complete slate of activities from the Porch.
Keep an eye out for all the scheduled events on the Back Porch… from Car shows, Bike nights, Bands, Drive-in movie nights and more! All under a 24,000 square foot covered entertainment pavilion that is connected directly to the restaurant and Bert's Black Widow Harley Davidson. It never rains at Bert's!
Our Twist on Sweets n Such
The best way to experience our wide collection of desserts and other deliciosity is to visit the restaurant. Follow the aromas and choose the most enticing sweets n such to satisfy your palate.
"The exclusive dishes are prepared by our well-learned chefs"
Welcome to The Twisted Fork! Dig into some chef-inspired, down-home Florida cuisine with "a Twist", at one of Southwest Florida's most unique venues. Come on in and enjoy the food. Enjoy the drink. Enjoy the music. Enjoy the atmosphere. There is lots to enjoy for all ages.
The Twisted Fork has the best chefs available preparing our unique recipes from four generations of our family. Come by and enjoy some of our Twisted takes on traditional favorites.
Keep an eye out for all the scheduled events on the Back Porch… from Car shows, Bike nights, and Bands, to much much more! All under a 24,000 square foot covered entertainment pavilion.